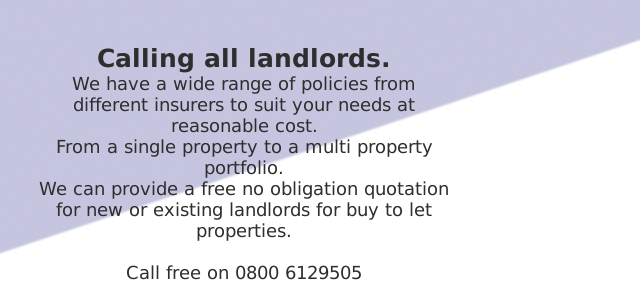 If you have property that you rent out or a buy to let mortgage you will need to have landlord insurance. Landlord insurance is similar to conventional home insurance but designed for the needs of todays landlords.
Like a house insurance policy, landlord insurance falls into two main sections;
Buildings Insurance: covers the property.
Contents Insurance: covers the landlord's contents.
Like a conventional home insurance policy cover is provided against the standard insurance perils, fire, storm and theft etc, with options to include accidental damage, either for buildings, contents or both.
There are also some optional extra covers that may be available;
Legal Expenses Insurance: covers costs of repossession or contract disputes and/ or other similar eventualities.
Rent Guarantee Insurance: covers loss of rent should the tenant not pay.
Home Emergency Cover.